The festilval motif for Dark Season Blues 2017 was created by artist Sigrun Werner
This year, a competition was announced for delivery of the festival motif, and the jury selected the motif for Sigrun Werner as the winner, in strong competition with 14 other entries.
The motif characterizes t-shirts, posters, program booklets, advertisements and other material in connection with Dark Season Blues 2017.
Sigrun Werner on the festival motif:
When I saw that a competition had been announced to create a festival motif for Dark Season Blues, I knew right away that I had to submit a proposal. The idea came quickly, about a polar bear sitting under the northern lights playing blues guitar. I have never visited Svalbard before, but have dreamed of doing so for a long time. I can't wait to experience nature, the colors and the atmosphere, and not least the blues!
Presentation of Sigrun:
My name is Sigrun Werner, I am an artist living in Skogbygda in Nes municipality, Akershus. The outbuilding in the courtyard is converted into a studio, and here I work with oil painting and drawing of various kinds, both on paper and digitally on IPad.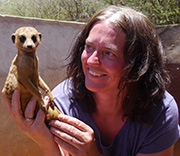 Drawing has always been my passion, and I found early on that I had to pursue this path forward. This resulted in education at two different art schools in Oslo, and five years of apprenticeship with artist Jan Valentin Sæther, former professor of the figurative programme at the National Academy of Fine Arts. With him, I started seriously with oil painting. A couple of years ago, I discovered digital drawing, and a new world of possibilities opened up. I love learning new techniques, but I always come back to the grey pencil which is my favourite technique.
In recent years, I have worked a lot with different types of assignments in addition to my own projects and exhibitions. I work within the figurative tradition, but I am very fond of abstraction and patterns. Animals and nature are my other great passion in life, and I often draw inspiration for my work from there. In the past year, I have fulfilled a big dream I have had for as long as I can remember, and have visited Africa twice. Here I had many incredible encounters with both animals and people, and now I am working on a large exhibition that will deal with the relationship between us and the animals.
For more information and pictures, see my website [fancy_link link="http://sigrunwerner.no/" target="blank"]www.sigrunwerner.no/[/fancy_link]
[colored_box variation="blue"]
Sigrun Werner, festival artist Dark Season Blues 2017.
Sigrun's photos can be seen at the Radisson Blu Polar Hotel Spitsbergen during the festival.
We recommend stopping by.
[/colored_box]