The Festilval motif for Dark Season Blues 2018 was created by Rose Luiselli
This year we asked a local person to create the festival motif for us, namely Rose Luiselli. Her motif characterizes T-shirts, posters, program booklets, advertisements and other materials in connection with Dark Season Blues 2018.
Rose Luiselli on the festival motif:
I was honored and very happy to be asked, at the same time as it scared me very much. I've never done anything like this before and I'm not a professional artist. Usually I draw faces of people, sometimes animals. The motif was to include Svalbard, music and Longyearbyen. That's why I've drawn a polar fox, Hiortfjellet, sheet music and a touch of northern lights.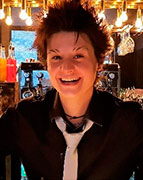 Presentation by Rose Luiselli:
Rose was born in Vittel, Lorraine, France in 1991 and grew up there with her parents and two smaller siblings. She came to Lillehammer as an exchange student in 2012, and has since worked in several places in Norway and on Svalbard, both as a volunteer and with paid jobs. Here in Longyearbyen, we got to know her when she worked as a bartender at Karlsberger Pub. Today we find her in the bar at Funken Lodge. Rose is trained as a bartender and has drawing/painting as a hobby. She works best with the photos at night, often after she gets home from her bartending job.
For more information and photos, [fancy_link link="www.in-your-eyes.wix.com/arty" target="blank"] visit her website.[/fancy_link]