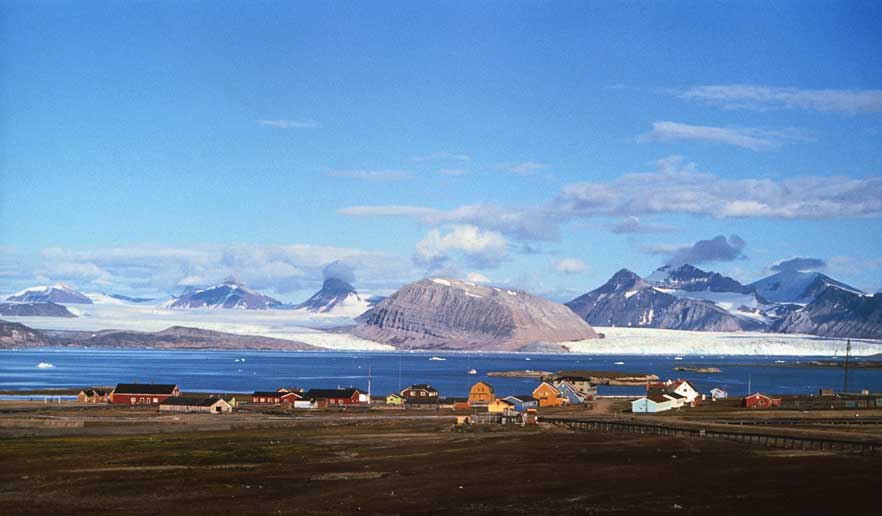 Kings Bay AS
9173 Ny-Alesund
Internett: www.kingsbay.no
Tlf: 79027200
Since 1916 the Norwegian public corporation Kings Bay AS (Kings Bay) has owned and run the worlds northernmost settlement named Ny-Ålesund. During the mining period (then still named Kings Bay Kull Company – KBKC) the firm ran the company town with up to 400 inhabitants. Shortly after the coal mining activity had been stopped in 1963 the Arctic research station started developing, mainly due to the Norwegian Polar Institute starting permanent scientific work in Ny-Ålesund, and the so-called Norwegian Research Council (NTNF) was commisoned to run the station.
KBKC resumed primary responsibility for the practical operation of Ny-Ålesund by 1974. In 1998 Kings Bay Kull Company changed its name to Kings Bay AS and still owns and runs the research station on a full year basis. In addition the state owned company owns the entire Brøgger peninsula and most of the area around the Kongsfjord.
Kings Bay AS manages all necessary services in the community such as the provision of food, electricity and water. Kings Bay is also responsible for the maintenance of buildings and roads, the diposal of refuse and sewage and runs the post office, the hotel, the local store as well as Ny-Ålesund's airport and quay. Depending on the season the company has a permanent staff of 20-25 employees living and working in Ny-Ålesund and all of them are involved in running the settlement throughout the year.
The companies mission statement declares that Kings Bay shall «provide services and promote research and scientific activities, and strive to develop Ny-Ålesund as an international arctic scientific research station». This means that the company's primary activity is to support research while other activities, such as tourism, are secondary.
Kings Bay has developed a modern infrastructure based on the needs for arctic research and today presents a modern international arctic scientific research and environmental monitoring base to its customers. Government-owned Kings Bay AS owns Ny-Ålesund and the surrounding area and is responsible for the necessary infrastructure and management of the town. Ny-Ålesund is a major centre of arctic research and is bound to comply with the intentions of the recent «Government White Paper» to be a «green» research comunity – all other types of activity must take this into consideration.Photo: Birgit Brosø
As a scientist or visitor to Ny-Ålesund Kings Bay will provide you with the basic infrastructure and logistic services needed to work or perform research in Ny-Ålesund. Full accommodation, including full board, with a maximum capacity of up to 150 persons in different categories is available. In addition to these services Kings Bay also provides logistic help and equipment to visiting scientists in cooperation with the scientific stations established here.
If you plan on visiting Ny-Ålesund through a research project we hope you will find all you need to know on these pages. You are welcome to contact us for booking or if you have further questions.