The Festilval motif for Dark Season Blues 2015 was created by artist Eva Berntsen
The motif characterizes t-shirts, posters, program booklets, advertisements and other material in connection with Dark Season Blues 2015.
Eva Berntsen on the festival motif:
I visited Dark Season Blues for the first time in 2013, and was impressed by the mighty landscape, the blue colors, and an incredibly beautiful blues festival far north where the polar bear is housed.
Svalbard and the blues gave me a lot of inspiration. Inspiration to paint blues, Svalbard, Longyearbyen, Hiorthfjellet, polar bear; to paint something that shows how the blues quivers in the landscape and the polar bear puts on his rock glasses for a weekend in the blue light. This is the origin of the artwork, which for me is my memory of Svalbard and Dark Season Blues far north in October.
Eva Berntsen About the artist Eva Berntsen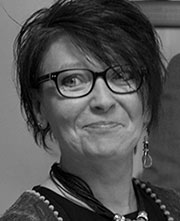 Eva Berntsen was born in 1960 in Lørenskog and is a full-time artist with many exhibitions behind her at home and abroad. She works within expressionism with figurative elements, and her expression is about the impressions life gives. Eva works within two styles within abstract expression; music and poetry. The artworks of musicians come out of concerts Eva is inspired by, and to almost every picture comes Eva's poetry, which is a further speech for her sensitive expression. Eva has a close relationship with the blues. The sensitive motifs emerge with everything the blues can contain, with emotions that for all of us are imminent. She lets the paint be painted, scraped and drained onto the canvas layer by layer, letting the intuitive motifs emerge. The energies, tones and rhythms of the colours become attached to the canvas and gradually the blues acquires sound.
She uses two methods to present her work. One is paintings, painted on canvas with the best quality acrylic paint. The second is printmaking, where paintings are digitized and digitally processed into new works of art.
Homepage: [fancy_link link="http://evas.gallery/" target="blank"]www.evas.gallery[/fancy_link]
Facebook: [fancy_link link="https://www.facebook.com/pages/EvasartnoEva-Berntsen/79234207950″ target="blank"]www.facebook.com/Evasart.no/Eva Berntsen[/fancy_link]
[colored_box variation="blue"]
Eva Berntsen, festival artist Dark Season Blues 2015.
Eva's pictures will be seen at the Radisson Blu Polar Hotel Spitsbergen during the festival.
We recommend stopping by the sales exhibition.
[/colored_box]